How Are FWD vs. AWD vs. 4WD Different?
When buying a new INFINITI model, you may have the choice between front-wheel drive, all-wheel drive or 4-wheel drive. To learn about all the differences between FWD vs. AWD vs. 4WD, meet with the specialists at our INFINITI dealer in Hartford. We can show you all the different INFINITI AWD models or help you drive home a 4WD luxury vehicle you love

When you're taking Connecticut road trips or driving through tough New England weather, you'll want a vehicle that can handle the conditions. That's why we're proud to offer AWD luxury cars and vehicles with impressive performance capabilities. Reserve a new INFINITI AWD or 4WD model nearby at Harte INFINITI today!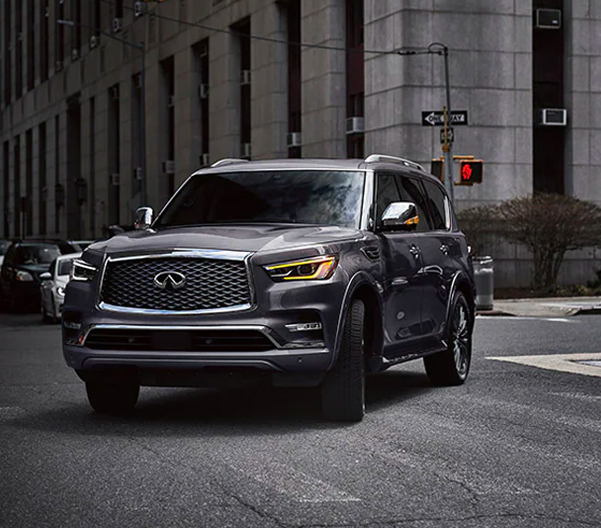 What Are the Benefits of AWD vs. 4WD?
For enhanced confidence on all your New England adventures, finance a new INFINITI with AWD. The INFINITI AWD system is called Intelligent All-Wheel Drive, which delivers high-end performance capabilities and increased traction in tough conditions. For more details on how to compare front-wheel drive vs. all-wheel drive, reach out to our Hartford INFINITI dealer.

To compare AWD vs. 4WD vehicles, meet with the professionals at our local INFINITI dealer. While all-wheel drive vehicles have the ability to provide power to all of the wheels, 4-wheel drive vehicles are those that have a 2-axle drivetrain that's capable of providing torque to all of its wheels simultaneously. Get more details when you contact Harte INFINITI!
Luxury Cars With AWD & 4WD
If you're ready to finance an AWD luxury car nearby, shop now at our Hartford INFINITI dealer. You can choose between QX80 4WD SUVs or finance a new INFINITI Q50 AWD sedan to upgrade all the time you spend on the road. To reserve luxury cars with AWD at incredible prices, shop the inventory now at Harte INFINITI!