Luxury Cars with AWD in Hartford, CT
Want to upgrade your ride with a luxury car with all-wheel drive? You're in luck, as Harte INFINITI offers a full lineup of new INFINITI AWD models. Our selection of SUVs and sedans with all-wheel drive are the perfect balance of style, safety and performance. Stop by to take a look at the Q50 and QX55 AWD models, or preorder one to ensure you get the perfect ride.

Book a new INFINITI QX55 AWD test-drive and come speak with the team at our INFINITI dealer in Hartford to discover all the all-wheel drive luxury cars we have available. Apply for INFINITI financing and drive home an AWD car with luxury features that you love!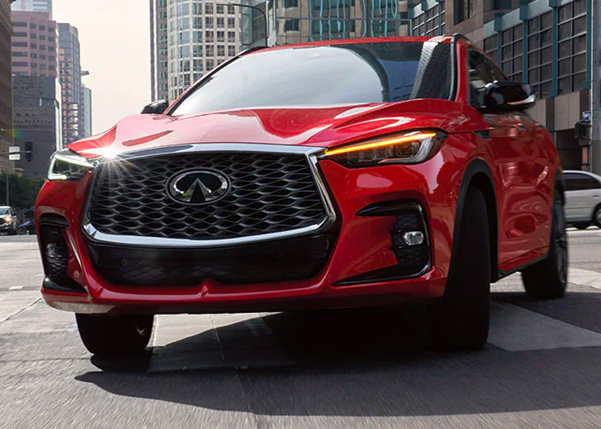 INFINITI Luxury Cars with AWD in Connecticut
For a luxury car with AWD that's in a class of its own, you can take a look at the selection new cars for sale at Harte INFINITI. We have a huge inventory, or you can place a new INFINITI AWD preorder to customize the exact vehicle you want. Whether you're after a Q50 AWD sedan or a QX60 AWD SUV, you can rest assured knowing you're getting the best combination of performance, safety and style.

Interested in seeing how INFINITI AWD models compare to other luxury cars with all-wheel drive? Take some test-drives or get customized reviews of each model at our local INFINITI dealer to see why INFINITI AWD cars and SUVs stand out from the pack. Our selection of high-end AWD cars is unmatched, so shop now!
Luxury AWD Vehicles Near Me
You should never have to give up luxury for performance, and you never will when choose a new INFINITI AWD in Connecticut. From New England road trips to local drives in inclement weather, you'll be glad you chose an INFINITI with all-wheel drive at Harte INFINITI. Place your INFINITI AWD reservation now with us and prepare for an exciting new life behind the wheel with added peace of mind and top-tier amenities!